And what is Lent, anyway? I didn't grow up in a church that observed Lent, and because of that, even as an adult, I sometimes still struggle to grasp the full meaning of it. I mean, about five years ago I decided to give up watching Days of Our Lives for Lent, and I've never gone back (don't judge me...it's the only one I ever watched, and they felt like family).  But really, giving something up has been the extent of my knowledge of Lent.
I know I'm supposed to feel the lack of what I give up. Somehow, it's supposed to make me feel closer to Christ and prepare me for a more meaningful Easter. But honestly, there's got to be more to it, right?
Enter this amazing Easter resource from my friend, Amanda White: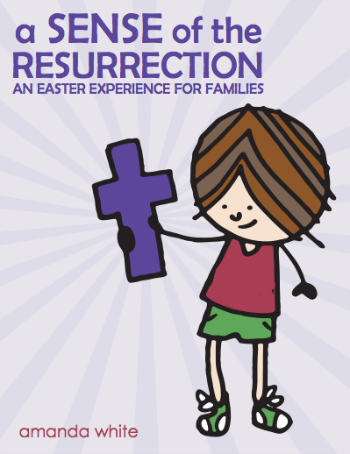 Here's why I'm pumped to start this study:
Amanda is amazing. I've gotten the chance to get to know her a little better over the last couple of years. Her heart for kids, and showing them the power of the Gospel, is nothing short of inspiring. She's the real deal. She desperately loves Jesus, desperately loves kids, and she knows what she's talking about. In other words, I believe you can trust her.
If you've done Truth in the Tinsel (we did for the first time last Advent season), you just know that this one will be amazing too. And while it's a totally different study, Amanda's heart to help your family experience the Word of God is the same. I believe my boys walked away from last Christmas with a better understanding of what it truly is than ever before—because of Truth in the Tinsel.
I'm personally all in favor of experiencing a deeper, richer Easter season. I want my boys to think of it as more than just an opportunity to hunt eggs and eat chocolate.
So grab your copy of A Sense of the Resurrection right now. The good news is that you can start anytime. The even better news is that it's only $7.99. Best eight bucks you'll spend all day. Promise.
*This post contains affiliate links. If you purchase something using them, I'll receive a small portion of the profit. Thanks for supporting my ministry!